As the Infrastructure-as-a-Service market began heating up, but before Amazon necessarily had the lead, companies StrataScale and parent, RagingWire, were early to market with public and private virtualized clouds and built a fantastic business offering an array of innovative ways to integrate physical managed servers and virtualized cloud servers on-the-fly.
While businesses migrated apps and services to the cloud in those early years, revenue share for AWS grew rapidly and without mercy. What AWS left behind went to Azure, Google, and Backspace, with honorable mention going to Dallas' own SoftLayer.
RagingWire turned to strategic investors for capital to finance a newly tuned strategy and a partnership was born with SHI International Corp., based in Somerset, NJ. SHI is a truly remarkable company. It's not sexy. But it was built from the ground up to be one of America's few privately owned businesses worth $6+ billion.
From SHI:
Thai Lee has been the CEO and President of SHI International Corp. since 1989. Under her leadership, SHI transformed from a $1 million reseller into a $6 billion global provider of information technology products and solutions with 25 offices around the world.
SHI's growth has been achieved completely organically. Dynamic, scalable, innovative solutions delivered with world-class customer support have made SHI the complete IT solution provider it is today. According to Businessweek, SHI is one of the top ten privately held companies in the Information Technology field in the United States.
Within the IT channel, SHI plays roles as a distributor, a VAR, and a Systems Integrator, adapting their focus as needed to address demand. When SHI acquired a stake as an investor in RagingWire, StrataScale came with the deal and became the vehicle for SHI executive, Wade Yi, to realize a vision for a new cloud services marketplace. A brilliant finance mind meets radical charisma in Wade Yi, Ph.D. and I can happily imagine Wade pitching this cloud marketplace idea to Ms. Lee. (They have a long-time professional relationship).
Although Thai Lee was named CEO, Wade assumed the role of StrataScale's president and leader of strategy and daily operations. StrataScale would be staffed in part by SHI employees recruited by Yi. The SHI team brought incredible expertise in channel sales and marketing as well as relationships with 10,000 customers worldwide.
In November 2014, the idea for a services marketplace independent of SHI was put to rest and StrataScale's initiatives and operations were formally assumed by SHI.
Our Engagement
Joseph Mendoza is one of the greatest guys you'll meet in Dallas. We met through the TechWildcatters program before he went to work with Giovanni Sanguily at TriDigital Marketing as director of web development. When StrataScale approached TriDigital to explore a development partnership, Joseph reached out to me to augment the firm's design capability. TriDigital invited my proposal on StrataScale and I offered a scope of work of about 100 hours.
The Proposed Scope of Work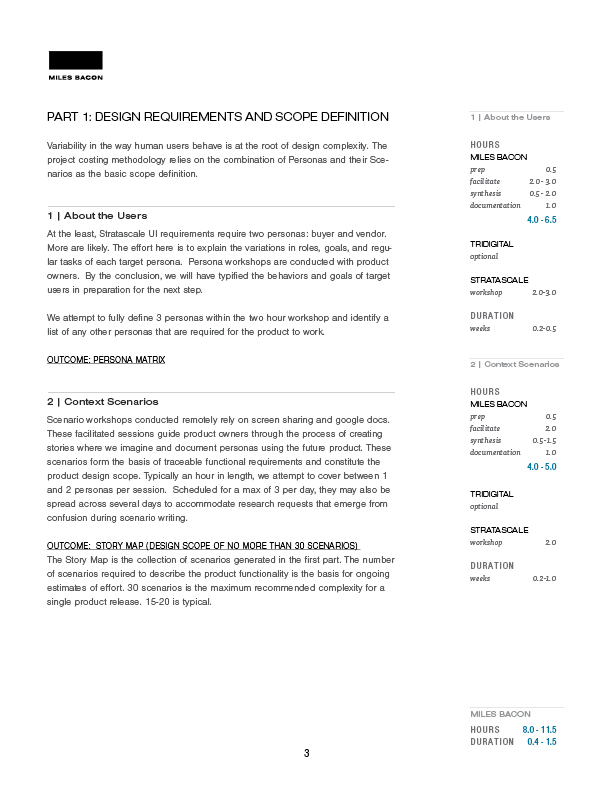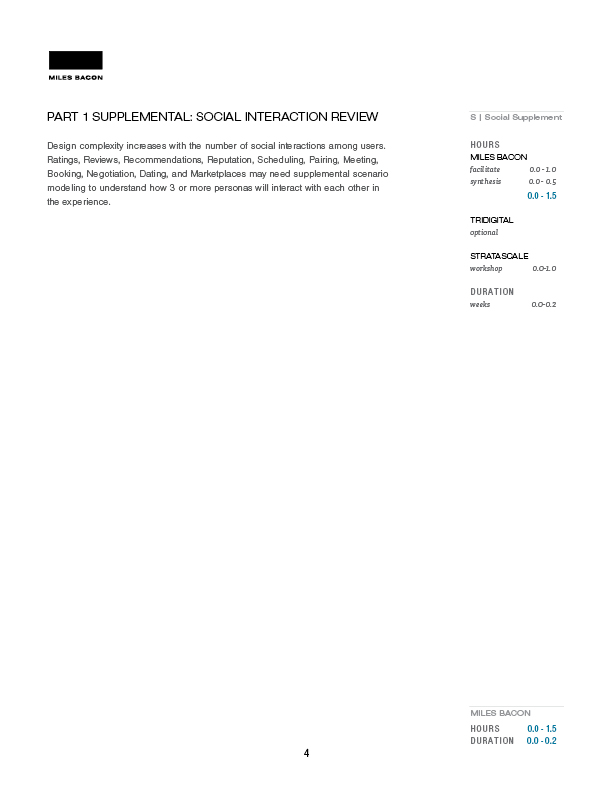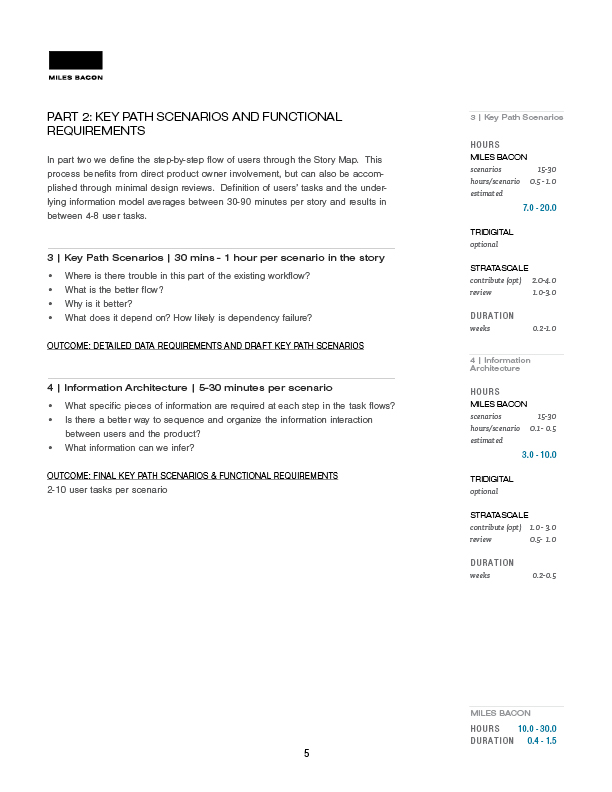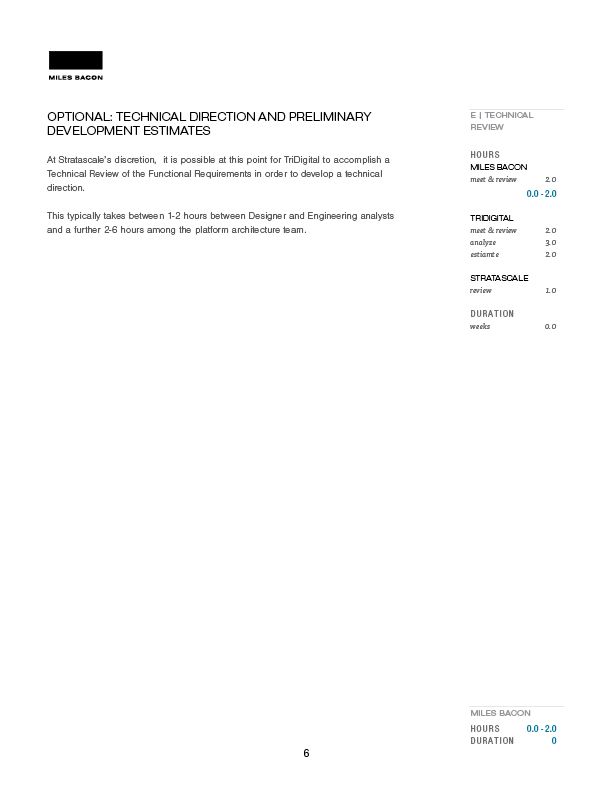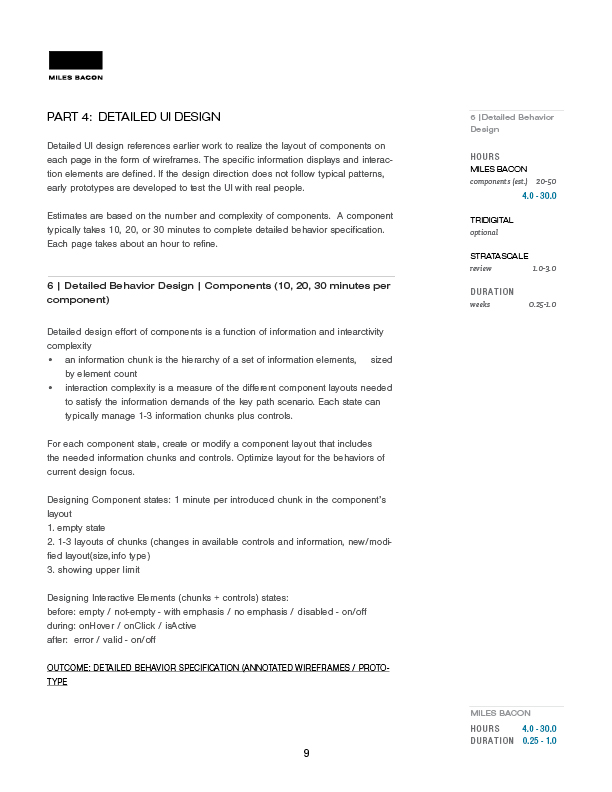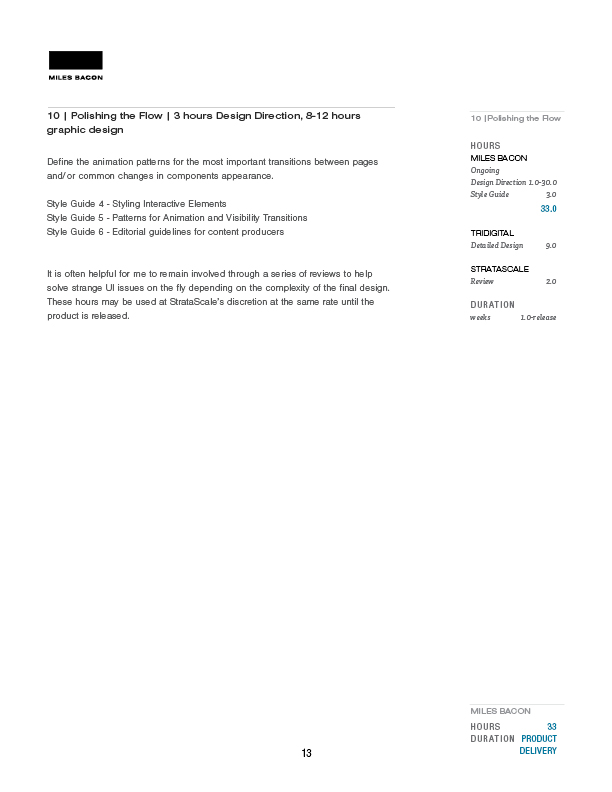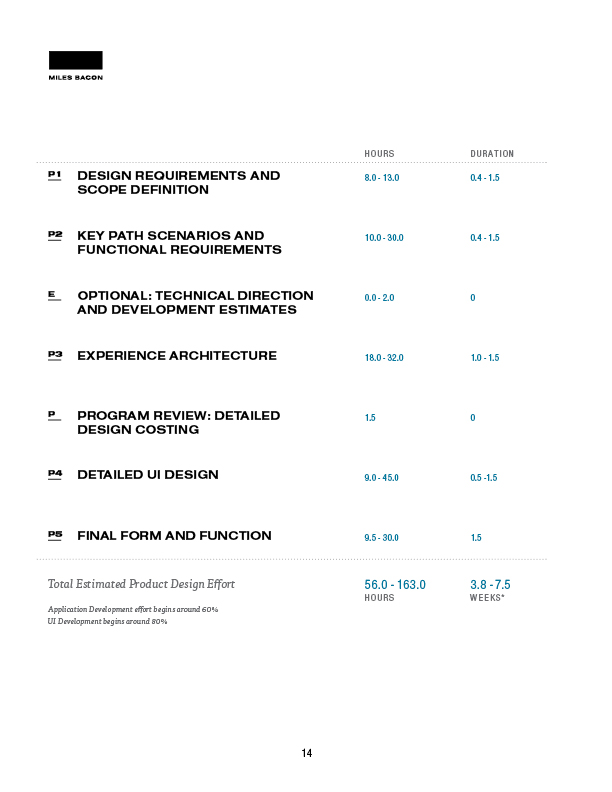 In the StrataScale effort prior to our engagement, about 15 pages of functional and technical requirements had been documented. All my work begins with the question, "Who is the user and what user-centric problem are we trying to solve?"
The engagement kicked off with a persona development workshop with Dwight Hurych, StrataScale's User Experience Manager.
Dwight's insightful, truly user-centric view of the StrataScale effort helped enormously to lay the foundation for the rest of the work. Over the course of two 1/2 days, I would screenshare an InDesign document where we developed a matrix of companies, peoples, jobs, roles, and goals. These models served as the baseline of an evolving reference of user motivations and buyer/agent/seller/vendor relationships that characterize the IT channel. Across the project lifecycle, we would return to this work to rationalize feature ideas into realistic release plans.
With a sensible persona matrix in hand, the engagement expanded participation to the rest of the core team. The debriefing studio was designed for the particular team of generalists and the fact that I would be conducting from Dallas. My primary purpose was to rapidly contextualize the constellation of functional requirements and floating feature ideas into goal-directed scenarios. In New Jersey, Kevin Wright, Ken Kapes, and Dwight Hurych were in attendance along with technical lead Jason Chang. I believe Wade may have joined, silently, from Santa Clara.
Starting With Scenarios
The studio method, which I only know to call it, "Writer's Room" has a few interesting features.
The work of the meeting is captured in a Google Doc, so everyone who wants to contribute can jump in at anytime. I also do screensharing so that my desktop is on the display in the client's conference room. Using both methods helps everyone follow along regardless of whether they have their laptops and/or take the step of joining the document. On the other hand, some folks may only join the document, able to follow along without the bandwidth of a screencast.
I also keep my workshop/studio schedule in an Evernote along side the document, viewable by those seeing the screencast. Part of a setting the tone in a design studio is to establish a rhythm that participants can trust. Convincing a group of technologists and business managers to forget their 15-page requirements document for two hours and step with me into the future takes an act of faith. It also takes a moment of meditation and a strong sense of purpose. In this case, I truly believed that these people had an intimate sense of their customers and of the business. My job was to create the situation where everyone could make a story.
For a designer, narrative generating workshops with strangers can be an event like an out-of-control freight train where lots of ideas are exploding into a huge mess. They can also be a total reality check for stakeholders who discover that they have all been talking about totally different products before now. In the case of StrataScale, everyone played along and we quickly moved through the persona set.
I pretty much generated a large part of this story on the fly (with a general idea before hand of where it might go.) We generated several later versions of this as people raised concerns or ideas about what we were missing. As feature concepts from the requirements were raised, we identified for whom that requirement was most valuable and either integrated it into the present work, or scheduled it for consideration during the appropriate user's workshop.
The session was designed to give all stakeholders a sense of the contextual realities of their service concepts as well as a framework for which everyone could have their ideas understood. I recall positive feedback from these sessions. They would be used to create a design plan and technical development scope. Ultimately, 3 out of 12 total stories were delivered for engineering implementation.
Upon delivery of the original SOW, I expressed my interest in joining StrataScale full-time in a product management capacity. I asked my friend, also a TechWildcatters alum, Zachary Wiles to join me on the product team and within weeks we were both working full-time on StrataScale marketplace, primarily from Dallas but with a healthy number of weeks onsite in Santa Clara.
(Thanks to Jessica Martinez for smoothies and running a kitchen even a Googler could envy.)
Among the major strategic decisions we encountered:
Will the listings be mostly user generated or will we collect and curate the catalog?
How do we prioritize our focus between enterprise and SMB segments?
How do we leverage external knowledge sources within our service experience?
How do we synchronize with billing and provisioning service providers playing today?
How do we source and distribute vendor generated content?
How do we apply data science to provide meaningful feedback to vendors about their content, product performance, and feature appeal among prospective buyers?
How will business customer segments procure software and services in five years? in ten?
What new markets are emerging for business software and services and what are their unique buying habits? What are their unique challenges?
Deliverables
Click on any of the images below to see a few examples of the way we communicated design at StrataScale.